Tag:
Tips MC
Tips MC kali ini membahas beberapa kalimat salah kaprah dalam memandu acara. Setidaknya ada tiga …
Master of Ceremonies (MC, Emcee, Emsi) atau pembawa/pemandu acara adalah "jembatan" antara audiens dan pengisi …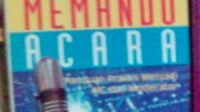 Master of Ceremony (MC, Emcee, atau Emsi) adalah orang yang bertugas memandu jalannya sebuah acara seperti …
No More Posts Available.
No more pages to load.